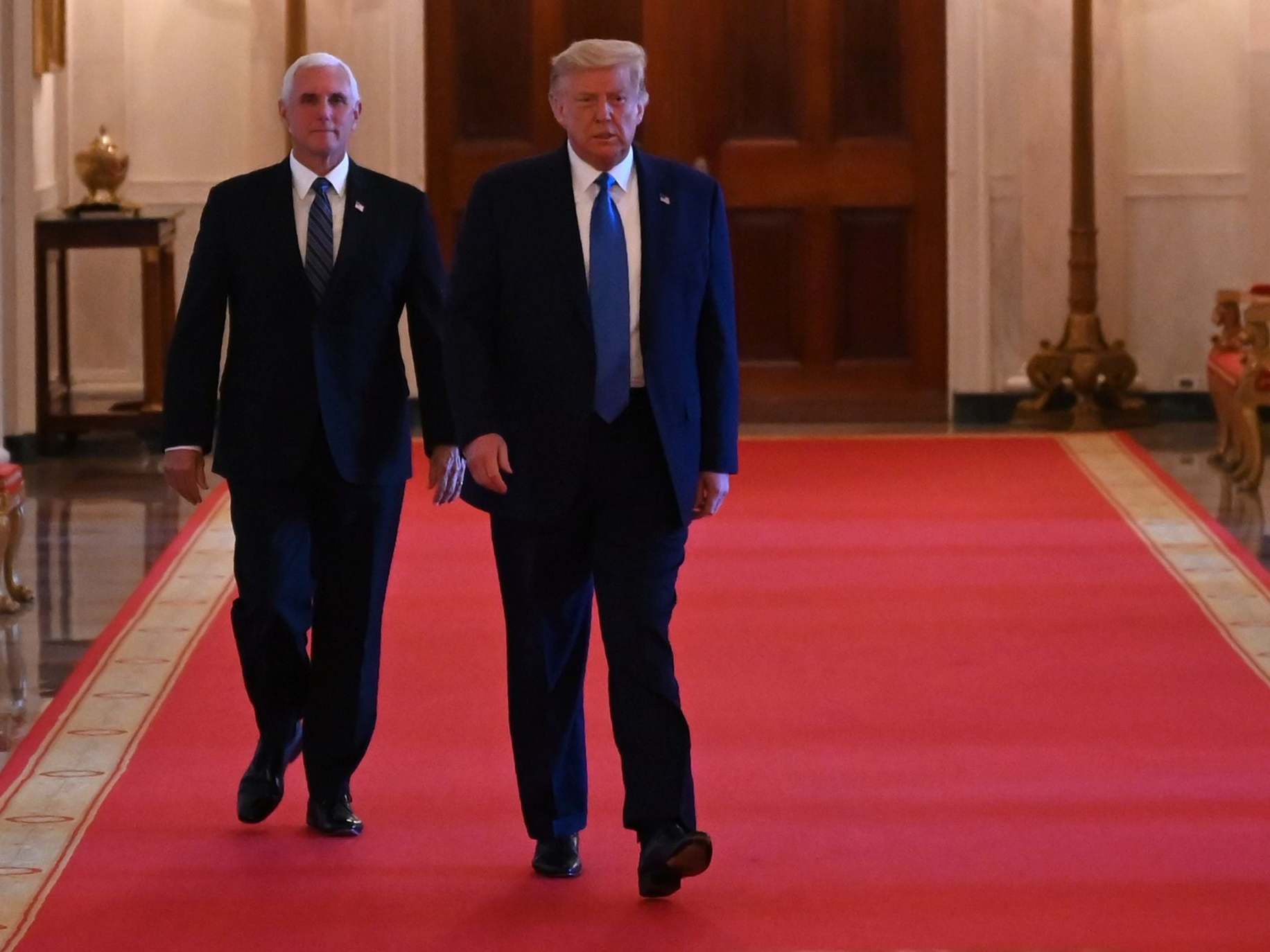 The White House coronavirus task force has warned that deaths will continue to spike within the next several weeks as the nation responds to a "new phase" of the pandemic that has gripped both rural and urban areas despite scrutiny from health experts that the administration failed to respond to the crisis at its onset.
Donald Trump has meanwhile issued a rare direct rebuke of the nation's leading infectious disease expert Dr Anthony Fauci, whom the president said is "wrong" to blame the surging public health crisis on the nation's failure to shut down its economy.
A vote to secure the president's nomination for his re-election could be held privately without members of the press later this month, for the first time in modern history. A spokesperson for the Republican National Convention (RNC) said the decision was due to "health restrictions and limitations in place within the state of North Carolina", where 336 delegates were scheduled to gather in Charlotte on 24 August to formally vote to make Mr Trump the party's standard-bearer once again. But GOP officials said on Sunday that organisers are still determining logistics to accomodate the press.
Such nominating conventions are traditionally designed to be in the media's spotlight so political parties can draw attention to the events and amplify their platforms.
The news comes as Tropical Storm Isaias, which was downgraded from a hurricane, is set to brush the east coast of Florida as it heads northwest with top sustained winds of 70 miles per hour. The National Hurricane Centre has said the storm will move near or along the state's east coast on Sunday. Florida's central and northern east coast could be hit by a storm surge of as much as four feet (1.22m) as the storm pushes tidal levels above normal.
2020-08-02T20:00:00.000Z
More than 8,000 Americans died from coronavirus this week
The nation's Covid-19 death has spiked past 150,000 this week, with Johns Hopkins University reporting more than 154,000 deaths since the onset of the pandemic.
More than 8,000 people have died from coronavirus-related illness this week. Confirmed cases in the US have climbed past 4.6 million.

2020-08-02T19:45:00.000Z
Donald Trump is the Mussolini to Putin's Hitler, top Democrat says
President Donald Trump is the Benito Mussolini to Vladimir Putin's Adolf Hitler, a top House Democrat has speculated.

House majority whip Jim Clyburn, the No 3 Democrat in the chamber who is a close ally of Speaker Nancy Pelosi and 2020 presidential nominee Joe Biden, made the comments in an interview with CNN on Sunday while describing what he feels is the president's dictatorial, anti-democratic tendencies.

"I don't think he plans to leave the White House. He doesn't plan to have fair and unfettered elections. I believe that he plans to instal himself in some kind of emergency way to continue to hold onto office," Mr Clyburn said, alluding to Mr Trump's threat last week to postpone the 2020 election over concerns about fraudulent mail-in ballots.
Griffin Connolly has more:
2020-08-02T19:30:00.000Z
Report: Millions of dollars in coronavirus relief intended for small businesses ended up in hands of Chinese-backed companies
As much as $419 million from a $660 billion program intended to benefit small businesses hit by the economic fallout from the coronavirus pandemic went to Chinese-backed companies, according to an analysis in The New York Times.

More 125 companies owned by or receiving significant investment from Chinese entities obtained loans from the Paycheck Protection Program, according to the report.
At least 32 companies received loans larger than $1 million.
2020-08-02T19:15:00.000Z
Nasa astronauts safely drop into sea after pioneering SpaceX mission to International Space Station
Astronauts have dropped into the sea after a pioneering SpaceX mission to the International Space Station.

Bob Behnken and Doug Hurley became the first American astronauts to splashdown in 45 years when they landed in the capsule made by Elon Musk's space firm.

The arrival in the Gulf of Mexico – after having blazed through Earth's atmosphere, and being carried safely down by parachutes – brought an end to a mission that is set to change space travel in the US.

2020-08-02T19:00:00.000Z
Trump to 'take action' in TikTok ban, Pompeo warns
US Secretary of State Mike Pompeo said Donald Trump is expected to "take action" against TikTok and other Chinese software in the coming days following the president's threat on 31 July to "ban" the app from operating in the US over national security concerns, though it's unclear how he would do so and what such an order would entail.
During an appearance on Fox News on Sunday, Secretary Pompeo claimed that the app is "feeding data directly to the Chinese Communist Party, their national security apparatus – could be their facial recognition pattern, it could be information about their residence, their phone numbers, their friends, who they're connected to."
2020-08-02T18:45:00.000Z
'No confidence': Pelosi blasts Deborah Birx for 'disinformation' about coronavirus because she works for Trump
Speaker Nancy Pelosi has doubled down on her accusations against White House coronavirus task force coordinator Deborah Birx' credibility, saying the virus expert is helping Donald Trump spread misinformation about Covid-19.

"I think the president has been spreading disinformation about the virus and she is his appointee, so I don't have confidence there, no," Ms Pelosi said on Sunday in an interview with ABC News.
Griffin Connolly has more:

2020-08-02T18:21:06.683Z
Polls: Biden pulling ahead in southern battleground states
Democratic presidential nominee Joe Biden is polling favourably in two southern states that Donald Trump won in 2016.

In North Carolina, the former vice president is ahead 48 per cent to Mr Trump's 44, while in Georgia, Mr Biden is leading by 1 percentage point, at 46 to the president's 45, according to the CBS News Battleground Tracker's latest survey.
Bill Clinton was the last Democratic presidential candidate to take Georgia, and only one Democrat – Barack Obama in 2008 – has won North Carolina in the past 10 presidential elections.
2020-08-02T17:23:24.373Z
White House press member tests positive for Covid-19
A member of the White House Correspondents Association has tested positive for coronavirus, according to the Associated Press.
The White House Medical Unit will perform contact tracing.
2020-08-02T17:00:00.000Z
Report: RNC disputes that Trump's renomination will be held in private
The Republican National Committee has said it is "still working through logistics and press coverage options" following an earlier statement the GOP's presidential nominating convention would be closed off to the press, The Washington Post reports.
On Saturday, the group told reporters that the event would be closed to reporters "given the health restrictions and limitations in place" in North Carolina, where the event is set to take place after its Florida event was cancelled.
The confusion underscores the event's uncertain scheduling, after its main event moved from Charlotte, North Carolina to Florida before moving back to North Carolina as coronavirus cases surged in the Sunshine State. The president abruptly announced the Florida convention was canceled during a White House press briefing.
2020-08-02T16:20:00.000Z
Former Bill Clinton press secretary to Joe Biden: 'Whatever you do, don't debate Trump'
Joe Lockhart, press secretary to former president Bill Clinton, issued a few recommendations to presidential candidate Joe Biden ahead of November's general election against Donald Trump.
Among them: Don't expend resources in states where you don't need to, don't be afraid to be boring, and "whatever you do, don't debate Trump."
"Trump has now made more than 20,000 misleading or false statements according to the Washington Post," Lockhart writes. "It's a fool's errand to enter the ring with someone who can't follow the rules or the truth. Biden will undoubtedly take heat from Republicans and the media for skipping the debates. But it's worth the risk as trying to debate someone incapable of telling the truth is an impossible contest to win."
Other Democratic strategists have made similar arguments, while three presidential debates and one vice presidential debate are on deck ahead of November. The first is set for 29 September.
Mr Biden, meanwhile, has said he "can't wait" to debate the "stable genius".
2020-08-02T16:00:00.000Z
Pelosi has 'no confidence' in White House task force official Dr Birx
House Speaker Nancy Pelosi told ABC she does not have confidence in White House coronavirus task force official Dr Deborah Birx, linking her to Donald Trump's disinformation about the pandemic and the administration's response.
"I think the president has been spreading disinformation about the virus and she is his appointee so, I don't have confidence there, no," Speaker Pelosi said.
In an interview with CNN on Sunday, Birx said she respects the speaker and attributed the criticism to an article in The New York Times that depicted Dr Birx projecting overly optimistic assessments of the virus.
2020-08-02T15:30:00.000Z
Stacey Abrams: Trump 'doing his best to undermine our confidence' election
Former Georgia gubernatorial candidate Stacey Abrams, also in the running for Joe Biden's VP pick, pushed back against Donald Trump's call to "delay" the election (which he does not have authority to do) amid his attempts to cast doubt on absentee ballots as he faces declining poll numbers.
"He's trying to distract us from his oversight and leadership, or failed leadership," including a stalled economy and millions of Americans facing evictions, unemployment and threats from the coronavirus.
2020-08-02T15:15:00.000Z
Trump campaign refuses to say whether it received information about Joe Biden and his family from foreign groups
Donald Trump's campaign adviser Jason Miller, asked three times by Fox News host Chris Wallace to state flatly whether the campaign or administration has accepted foreign information on rival Joe Biden, instead called it a "silly question" and pivoted to attacks on Hillary Clinton's former presidential campaign.
"We're going to beat Joe Biden fair and square," he said.
Mr Miller also called Mr Biden's platform a "communist manifesto" and claimed he was under the influence of a "left-wing mob" (which the president has also used to describe Black Lives Matter protesters) of prominent Democrat officials.
He also warned that mail-in voting in November will be a "disaster" for states that are not used to a larger volume of absentee ballots, though the president has claimed that the Post Office – which has also been targeted by the administration – also can't handle them.

2020-08-02T15:00:00.000Z
White House task force official tells US to 'move on' from hydroxychloroquine recommendations
White House coronavirus task force member and assistant health secretary Brett Giroir has pushed back against claims promoted by Donald Trump and his allies suggesting that hydroxychloroquine can treat Covid0-19 patients.
The president has recently defended a controversial doctor who called it a "cure" despite no evidence.
"I think most physicians and prescribers are evidence-based and they're not influenced by Twitter," Admiral Giroir told NBC on Sunday. "The evidence does not show that hydroxychloroquine is effective right now … We need to move on from that and talk about what is effective."
2020-08-02T14:41:04.243Z
Birx tells schools to continue distance learning in areas with high case rates
White House coronavirus task force member Dr Deborah Birx has appeared to reverse course on schools reopenings, after telling governors weeks ago that there was a clear path to reopen schools safely, while the latest CDC guidelines have urged schools to open, despite high case rates across the US.
On Sunday, Dr Birx told CNN that areas with "high case load and active community spread" should stick with distance learning "to get this epidemic under control."
2020-08-02T14:20:43.226Z
After promising a healthcare overhaul in 'two weeks,' president comes up short
Donald Trump promised a "full and complete healthcare plan" within two weeks – two weeks ago – and reports suggest there is no evidence of such a plan.
While his administration attempts to dismantle the Affordable Care Act at the US Supreme Court, the president has not offered up a replacement healthcare measure to ensure millions of Americans currently insured through the federal law will continue their coverage. The administration has meanwhile undermined other crucial parts of the law, targeting women and LGBT+ people.
Here's what he told Fox News two weeks ago:
The president is golfing for second consecutive day.
On Sunday, he touted his prescription drug executive orders that aim to lower the cost of drug prices.
2020-08-02T14:00:00.000Z
Coronavirus deaths up to 300,000 by the end of 2020? 'Anything is possible,' Birx says
Following Johns Hopkins University's warning to the US that federal leadership must "reset" its response to the coronavirus pandemic as deaths surpass 150,000 and cases near 5 million, White House coronavirus task force member Dr Debrah Birx insisted the US had reset its response several weeks ago, during a June surge in cases in the south.
"What we're starting to see … is these mitigation efforts are beginning to work," she told CNN. "We hope decreasing deaths will follow."
Asked whether it's possible the number of US deaths could double by the end of the year, Dr Birx replied: "Anything is possible."
"We need all of the public to help get control of this virus," she said.
2020-08-02T13:50:00.000Z
Clyburn: Trump 'is Mussolini, Putin is Hitler'
House Majority Whip ​James Clyburn warns that Donald Trump's has "taken on strong-arm tactics" as he mounts a re-election campaign amid fears that he would refuse election results and reject a peaceful transfer of power, should he lose, as the president casts doubt against the legitimacy of absentee ballots and the election process overall.
The South Carolina Democrat compared the president to Italian fascist Benito Mussolini and Russian president Vladimir Putin to Adolf Hitler.
"I feel very strongly that he is Mussolini, Putin is Hitler," he said. "I don't think he plans to leave the White House. He doesn't plan to have fair and unfettered elections. I believe he plans to install himself in some emergency way to continue to hold on to office. That's why the American people better wake up."
2020-08-02T13:40:00.000Z
National mask mandate? Compliance is key, administration official says
Facing calls for a federal mandate for Americans to wear face coverings in public to help combat the spread of coronavirus, Admiral Brett Giroir told NBC that masks would have to be "voluntary by the American people" to truly work, amid debate that people would "rebel" against such orders.
"The public health message is: we've got to have mask wearing," he said. "If we don't do that … the virus will continue to run."
But significantly cutting the infection rate would require "85 to 90 per cent" compliance with federal health guidelines to wear masks in public, despite no such orders implemented on a national level and instead relying instead of state and local officials to issue them.
"We are very concerned," Admiral Giroir said. "Deaths will continue to increase for the next few weeks."
2020-08-02T13:30:24.503Z
Birx: 'We are in a new phase' of coronavirus
Asked how the administration plans to address surges of coronavirus infections in "hot spots" across the US months after the onset of the outbreak in the country, White House coronavirus task force member Dr Deborah Birx claims that new infections are different from the case spikes in the spring.
"It is extraordinarily widespread, it's into the rural as equal as urban areas, and yo everyone who lives in a rural area, you are not immune or protected from this virus," she told CNN. "This epidemic right now is different."
Dr Birx and the administration have faced intense scrutiny for failing to respond to the pandemic at its early onset, relying on a patchwork response from states without a national testing regimen or adequate containment and relief efforts to keep Americans safely at home.
tinyurlis.gdv.gdv.htu.nuclck.ruulvis.netshrtco.de