At time of writing, the forecast for this Saturday was excellent, so I'm taking the chance to recommend some more roses from around the world after holding the column back a few weeks ago when the weather was somewhat mixed. Whether it's in the park, the beach or the back garden, the following are ideal for warm-weather drinking this August.
As I wrote then, I'm getting a little fixated on the weather forecast and while the rest of August seems uncertain, we should still make the most of rose season while we can. And there is simply nothing finer on a warm night to open a chilled rose in the garden, or at least with some fresh air and good food.
A while back, in the middle of our gorgeous spring, I recommended a number of roses, but the market for rose is growing at a frantic pace and we are drinking more and more, so there are plenty more to chose from, whether it is budget garden thirst quenchers or much more upmarket stylish offerings for your socially distanced summer dinner party.
And it is both a lovely guzzling aperitif and party wine, but matches a wide range of foods: almost all seafood, but particularly prawns, crab and lobster; tomato-based Mediterranean dishes; charcuterie; pizza; young, fresh cheeses; and spicy Middle Eastern and Asian dishes.
So, in the first of two columns dedicated to "the pinks", first of all to France. Very much, in my book, the home of rose and where the tangerine-coloured, lightly spicy with touches of herbs, Provencal style now tends to dominate. The southern Rhone valley on the western edge of Provence is normally the home of big reds made with the grenache grape. But this also makes excellent roses such as the organic and very dry Mas De Longchamp Rose 2018 (£10.00 abelandcole.co.uk; £10.18 realfoods.co.uk) from the Alpilles region just south of Avignon where it is blended with the little-known caladoc grape, itself a cross between grenache and malbec, adding complexity and spice to the blend. A great everyday rose.
That wine's label and bottle style are distinctly traditional, whereas the modern Provencal rose look tends to be more stylish and very grown up, such as the Chateau Paradis Terre des Anges 2019 (£17.95 finewinedirect.co.uk; £19.25 conceptfinewines.com) a syrah/mourvedre/vermentino blend which ticks all the right boxes – shapely bottle, glass stopper, elegant label: a very pale, tangerine pink, with intense flavours of citrus and red berries; one for the dinner table with lobster or oysters, rather than the garden. For another benchmark Provence rose, try the Chateau Des Ferrages Roumery Rose 2019 (£11.95 etonvintners.com; £13.95 winedirect.co.uk). It hails from an estate close to Aix-en-Provence which was bought in 2016 by northern Rhone specialists Chapoutier, which produces prestigious big reds but was anxious to get a foothold in the rose explosion. Full of bright citrus and red-berry fruit flavours, bracing acidity and an underlying herbal note.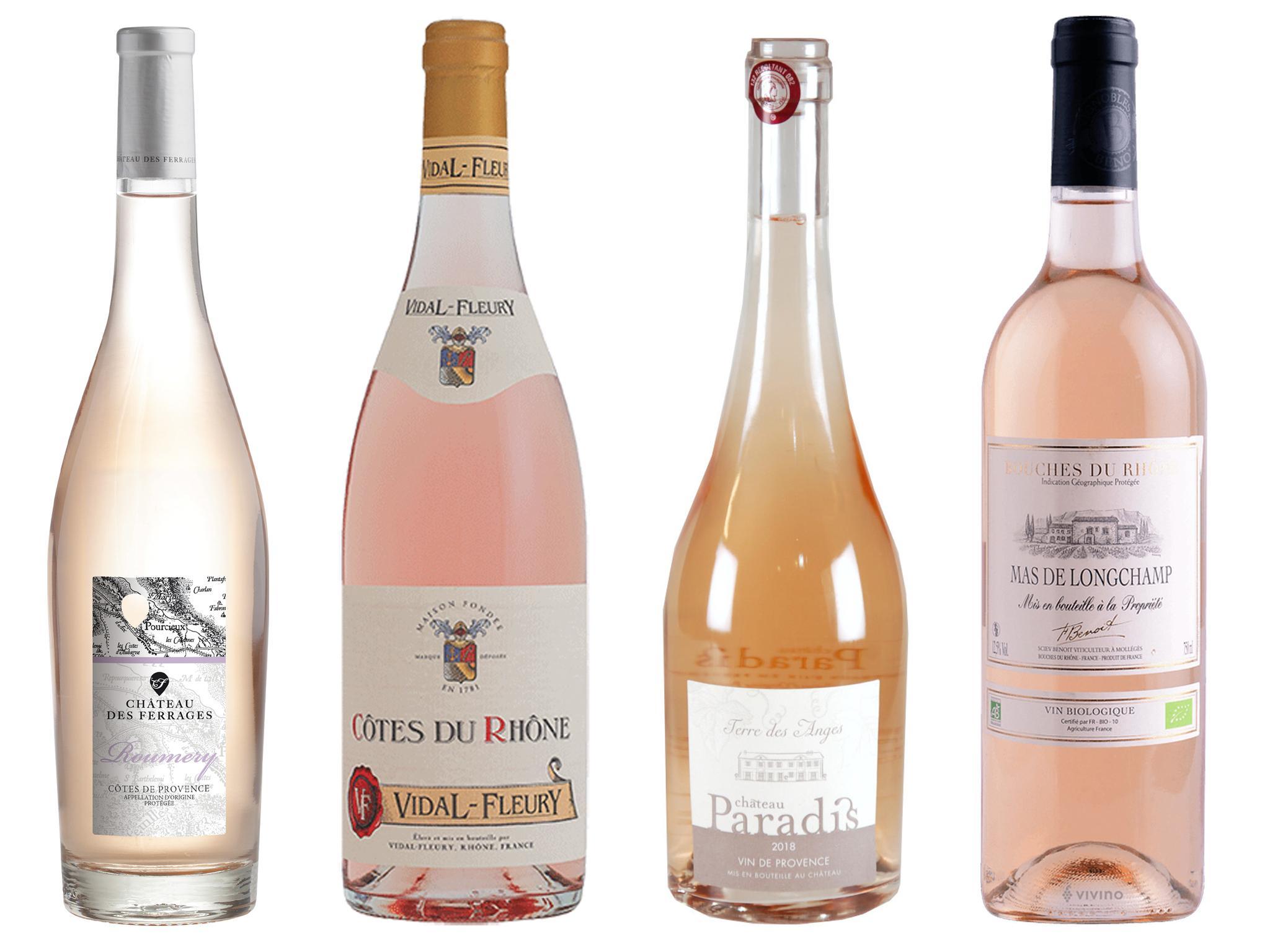 Elsewhere in France, others are challenging Provence at its own game, particularly on the other side of the Rhone Valley: possibly the most elegant wine bottle I've seen is on the impressive Chateau Puech-Haut Rose 2019 (£16.99 tauruswines.co.uk), which hails from an estate in the Languedoc, just north of Montpellier – beautifully sculpted with the now essential glass stopper. But it's not all for show – this exceptional grenache and syrah blend is very, very pale, very dry, with crisp red fruit and underlying spicy notes. Definitely one for the dinner party and some lobster or very big prawns. Cinsault, aided by grenach and syrah, forms the basis of the Vidal Fleury Cotes du Rhone Rose 2019 (£78.07 for six minimum order, the drinksshop.co.uk) from one of the oldest producers in the Southern Rhone; slightly fuller and fruitier than any of the above, with enticingly fresh strawberry and raspberry flavours.
Rose is produced just about everywhere in France, including those regions best known for their reds and whites. In Sancerre, home to the finest pristine, mineral whites, rose is growing in popularity with gorgeous, pinot noir roses such as the Domaine Michel Girard Et Fils Sancerre Rose 2018 (£15.49 allaboutwine.co.uk) which has lovely acidity and ripe red fruit flavours, with a very Sancerre-style elegance. In Beaujolais, the gamay grape is used in the Domaine Romy Imperial Rosé, Beaujolais 2019 (£9.95 edencroft.co.uk; £10.75 chesterbeerandwine.co.uk), producing a really food-friendly wine, at the fuller and fruitier end of the spectrum with crisp strawberry flavours.
Finally, a couple of budget, everyday roses, perfect for beach or park picnics and socially distanced barbecues: the La Belle Angele Rose (£8.99 or £6.74 if bought as part of mixed six-bottle purchase, majestic.co.uk) is from the same excellent Badet Clement label as the Belle Angele Pinot Noir I recommend a couple of weeks back and the label, named after famous painter's muse, exudes that sort of simple French design chic that is so beguiling; crisply refreshing and Provence-style in colour, style and flavour, but it actually comes from various vineyards around the Languedoc contributing cinsault and grenache with negrette, merlot and cabernet from the Gers region in southwest France.
Elsewhere in the Languedoc, the Cotes De Thau, which stretches alongside the Etang de Thau on the shore of the Mediterranean, is one of those small below the radar appellations in the region that produce good reliable wines for everyday drinking. The Pierre Jaurant Cotes de Thau Cap D'Agde Rose 2019 (£5.49 aldi.co.uk) is one of a new summer range of Aldi roses, also, one assumes, it is a blend of local grapes such as cinsault and which, as ever with the budget supermarket, represents terrific value for money. So, let's keep rose season going – next week we are off around the world, rose style.
tinyurlis.gdv.gdv.htclck.ruulvis.nettny.im