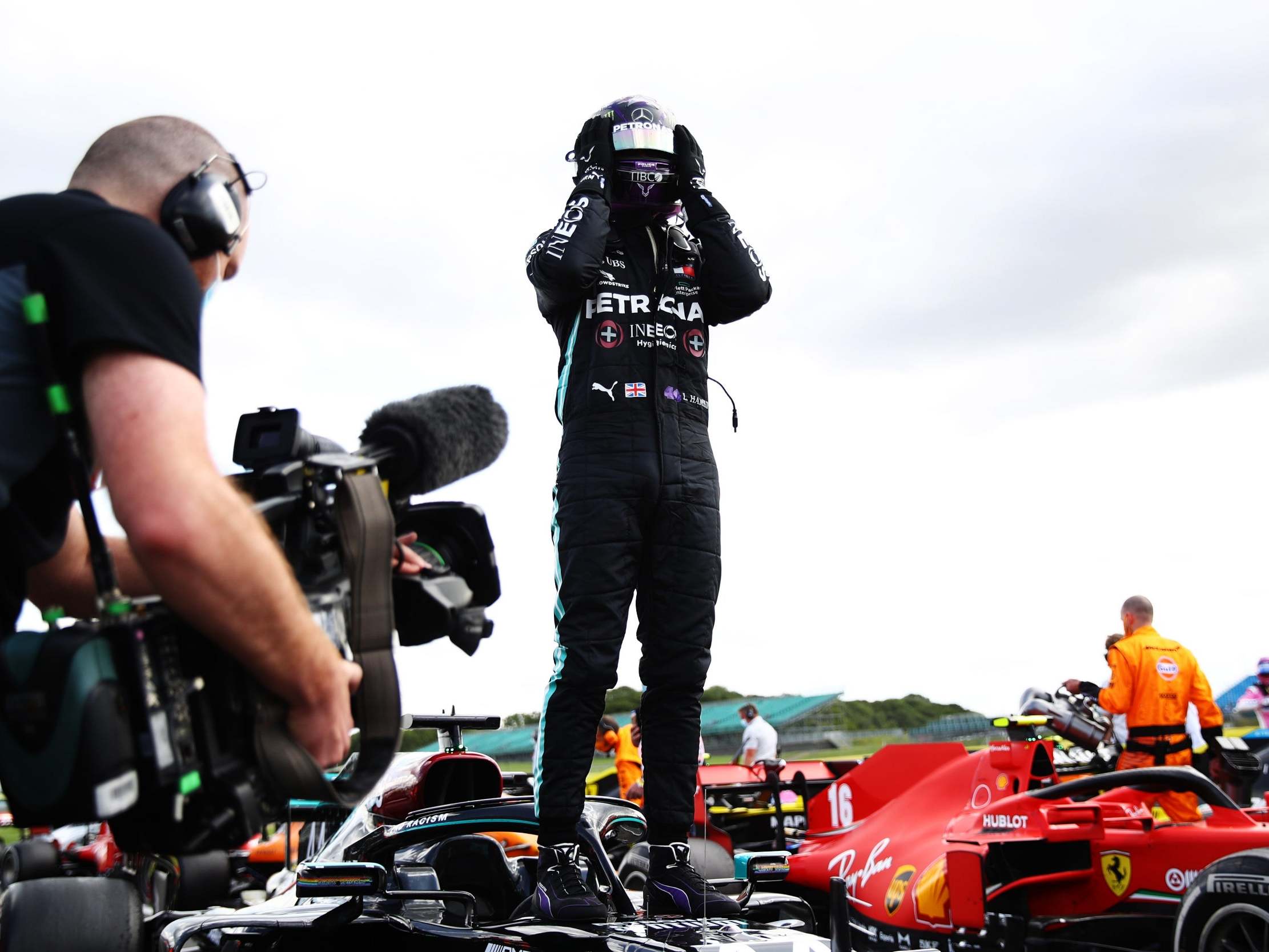 Follow the latest updates live from the British Grand Prix as Silverstone hosts the first of two back-to-back races with Lewis Hamilton starting from pole position.
The home favourite does not have the normal support of the British fans as the Grand Prix takes place this weekend without fans due to the coronavirus measures, which has also seen Sergio Perez ruled out of the race after he tested positive for Covid-19 on Thursday evening.
It means a return for Nico Hulkengberg in the Racing Point, who despite appearing to have enormous pace in the car disappointed in qualifying as Max Verstappen took third behind the two Mercedes, with the Ferrari of Charles Leclerc in fourth ahead of another British driver in McLaren's Lando Norris. Follow the live action below.
2020-08-02T14:53:28.533Z
Lewis Hamilton: "Up until that last lap everything was relatively smooth sailing. Valtteri was pushing really hard, I was managing my tyres and it didn't look like he did. When the tyre went the car felt fine, it was still turning and I thought it was ok, then driving down the straight I just noticed it had deflated, and I was really nervous because I wasn't sure if I'd brake because you could see it coming off the rim.
"I nearly didn't get around the last two corners, but I'm thankful we did. Ultimately we probably should have stopped.
"You'd be really surprised but I was really chill at the end. Bono was giving me the gap and in my mind I was thinking how far was it to the end of the lap. The car was still turning and was good through Maggotts and Becketts, out of T15 was hard, and then I gave it full speed and stopping was an issue!"
2020-08-02T14:50:35.310Z
Charles Leclerc: "It was a very tricky race, as soon as I heard Valtteri had the tyre issue I slowed down, and then Carlos had it and so did Lewis. I'm very happy with how we managed the tyres from the beginning to end, very happy with the balance of the car.
"I don't know what the cause if, whether there's any debris on track that caused it or not."
2020-08-02T14:49:26.683Z
Max Verstappen: "It's lucky and unlucky. I think in the race they were too quick, and the tyres didn't look too great with 10 laps to go. Then Valtteri got the puncture so I got him, but then the team boxed me so I could go for the fastest lap, and then Lewis got the puncture on the final lap. But I'm really happy with P2."
2020-08-02T14:47:48.473Z
CHEQUERED FLAG: What a crazy finish that was. Hamilton limped home on the final lap with a puncture to take victory by just 5.8s ahead of a rapidly closing Max Verstappen, who had he not pitted on the penultimate lap of the race would surely have won it.
2020-08-02T14:41:43.426Z
Lap 52: LEWIS HAMILTON WINS THE BRITISH HRAND PRIX WITH A FLAT TYRE!
2020-08-02T14:40:42.603Z
Lap 52: Hamilton has a puncture!
2020-08-02T14:40:24.703Z
Lap 52: Sainz has a puncture too!
2020-08-02T14:40:13.093Z
Lap 51: Bottas comes out in 12th and he's not going to score any points here. Verstappen pits for fresh tyres, and he's going to finish second and go for the fastest lap.
2020-08-02T14:37:49.796Z
Lap 50: Bottas has a puncture and he's only just passed the pits, and he's going to lose so much time.
2020-08-02T14:37:16.860Z
Lap 50: Bottas is in trouble here. He's plummeted 11.5s off the back of Hamilton, and Verstappen is closing, closing, closing… BOTTAS IS OFF!
2020-08-02T14:35:55.483Z
Lap 48: Raikkonen has an issue and is missing the left section of his front wing, having collapsed on the entry to Maggotts that has cut the front left tyre open. He's made it back to the pits for the issue to be repaired.
2020-08-02T14:33:00.136Z
Lap 47: Ocon finally gets by Stroll! The Renault driver gets a run down the Wellington Straight and sweeps around the outside into Brooklands, which gives him eighth place that he's been eyeing up all race.
2020-08-02T14:32:03.020Z
Lap 46: On the same lap, Albon gets past Giovinazzi for 12th place, and he's seven second behind Vettel in 11th.
2020-08-02T14:31:26.863Z
Lap 46: Albon's recovery drive sees him get by Russell for 13th place, but time is running out if he's going to salvage a points finish.
2020-08-02T14:29:47.616Z
Lap 44: With eight laps to go, it looks like the only major battle left out there is the one between Stroll and Ocon, which will be for eighth place unless they can reel Ricciardo back in. It hasn't been a classic British Grand Prix, has it?
2020-08-02T14:25:49.950Z
Lap 42: Ocon is still glued to the back of the Racing Point of Stroll, but even with DRS help he can't get past by the end of the Hangar Straight.
2020-08-02T14:24:17.950Z
Lap 40 standings
1. Hamitlon
2. Bottas +2.6s
3. Verstappen +13.1s
4. Leclerc +36.7s
5. Sainz +40.9s
6. Norris +42.9s
7. Ricciardo +44.1s
8. Stroll +48.3s
9. Ocon +48.8s
10. Gasly +52.0s
2020-08-02T14:20:32.580Z
Lap 38: Vettel is having a nightmare day out there this afternoon, and he's been relegated out of the top 10 as Gasly gets past in the Alpha Tauri on entry to the Club chicane. That's not a great look for Ferrari…
2020-08-02T14:18:09.120Z
Lap 36: Grosjean has already been given one warning for his defensive tactics, and he could well be in trouble once again after another late block on Ricciardo, which cannot prevent the Renault driver from taking seventh position. He pits at the end of the lap as his tyres are as good as done/
When is it?
The British Grand Prix takes place across 31 July – 2 August 2020.
What time does each session start?
FRIDAY
Free practice 1: 11am – 12:30pm BST
Free practice 2: 3pm – 4:30pm BST
SATURDAY
Free practice 3: 11am – 12pm BST
Qualifying: 2pm – 3pm BST
SUNDAY
Race: 2:10pm – 4:10pm BST
How can I watch it?
All European races will be held behind closed doors, meaning that the only way fans will be able to see the action is on television.
In the UK, Sky Sports continue to hold the exclusive rights for F1, but Channel 4 is able to show every session from the British Grand Prix live this weekend.
If you're not a Sky customer you can purchase a NOWTV Day Pass here to watch without a subscription.
Here's how Sky and Channel 4 plan to show the British Grand Prix:
FRIDAY
Free practice 1: 10:30am – 12:50am BST – (Sky Sports F1 + Sky Sports Main Event), 10:55am – 12:35pm BST (Channel 4)
Free practice 2: 2:45pm – 4:45pm BST (Sky Sports F1 + Sky Sports Main Event), 2:35pm – 4:35pm BST (Channel 4)
SATURDAY
Free practice 3: 10:45am – 12:10pm BST (Sky Sports F1 + Sky One), 10:55am – 12pm BST (Channel 4)
Qualifying: 1pm – 3:35pm BST (Sky Sports F1 + Sky One), 1pm – 4pm BST (Channel 4)
SUNDAY
Race: 12:30pm – 5pm BST (Sky Sports F1, Sky Sports Main Event and Sky One), 1pm – 6pm BST (Channel 4)
Highlights: 6:30pm – 7:30pm BST (Sky Sports F1 + Sky One), 11:45pm – 12:45am BST (Channel 4)
We may earn commission from some of the links in this article, but we never allow this to influence our content.
Drier changes
With Sergio Perez ruled out of action, Racing Point will have to make a decision on who to replace the Mexican with as they intend on racing two cars this weekend. Esteban Gutierrez is one option, with the Mercedes reserve driver the allocated back-up for Racing Point this weekend as Stoffel Vandoorne is unavailable. But Gutierrez has not raced an F1 car since leaving Alfa Romeo (formerly Sauber) at the end of 2014.
A more recent and likely option is Nico Hulkenberg, with the German missing out on a seat in 2020 after being replaced at Renault by Esteban Ocon. Hulkenberg drove for the Racing Point team in their former guise as Force India in 2012 and from 2014 to 2016.
Starting grid
1 Lewis Hamilton (Gbr) Mercedes GP 1min 24.303secs
2 Valtteri Bottas (Fin) Mercedes GP 1:24.616
3 Max Verstappen (Ned) Red Bull 1:25.325
4 Charles Leclerc (Mon) Ferrari 1:25.427
5 Lando Norris (Gbr) McLaren 1:25.782
6 Lance Stroll (Can) Racing Point 1:25.839
7 Carlos Sainz (Spa) McLaren 1:25.965
8 Daniel Ricciardo (Aus) Renault 1:26.009
9 Esteban Ocon (Fra) Renault 1:26.209
10 Sebastian Vettel (Ger) Ferrari 1:26.339
11 Pierre Gasly (Fra) Scuderia AlphaTauri 1:26.501
12 Alexander Albon (Tha) Red Bull 1:26.545
13 Nico Hulkenburg (Ger) Racing Point 1:26.566
14 Daniil Kvyat (Rus) Scuderia AlphaTauri 1:26.744
15 Kevin Magnussen (Den) Haas F1 1:27.158
16 Antonio Giovinazzi (Ita) Alfa Romeo Racing 1:27.164
17 Kimi Raikkonen (Fin) Alfa Romeo Racing 1:27.366
18 Romain Grosjean (Fra) Haas F1 1:27.643
19 Nicholas Latifi (Can) Williams 1:27.705
20 George Russell (Gbr) Williams 1:27.092 + five-place grid penalty
tinyurlis.gdv.gdv.htclck.ruulvis.netshrtco.de