Pierre-Emerick Aubameyang gloriously lifts the ball into the net, and Mikel Arteta triumphantly lifts the first trophy of his young career. It is a record 14th FA Cup for Arsenal, this strangest ever final ending with the most usual winners, as Chelsea are now set to end the campaign without silverware.
This wasn't the grand culmination of Frank Lampard's first season as Chelsea manager, then, but an illustration of how incomplete his team still are and maybe he is as a coach. Arsenal brilliantly exploited the flaws in this side that have been visible all season, and even in their boss's approach going back to Derby County. That was to the credit of Arteta and Aubameyang.
That was the story of this game, even if Chelsea will frustratingly look to goalscorer Christian Pulisic's injury, as well as a series of key decisions from Anthony Taylor: a red card for Mateo Kovacic, a potential foul on Andreas Christensen for Aubameyang's match-winner and Emiliano Martinez maybe handling the ball outside the box.
Whatever the merits of those arguments, Lampard must also confront errors in his own side, that really need to be fixed if they are to go to the next level – no matter how many attackers they sign.
That is why this was so much more than a trophy for Arsenal, although the pure glory of just lifting the FA Cup should also be recognised.
It is just another happy moment in this competition for a club that has suffered a lot of uncertainty of late. Arteta adds himself to a legendary list of managers this early in his career. It is a landmark, but should also be the launchpad for something more. Arsenal do need to kick on now in a manner they didn't after their more recent FA Cup victories, but this win will help that too.
They are back in Europe, having qualified for the Europa League, with their transfer budget greatly improved.
A coach as astute as Arteta will also know what areas need to be improved, too.
This entertaining final – probably the best since these clubs' last meeting here, in 2017 – illustrated some of those issues too. Like this season, they overcame some big early problems.
A contrast quickly developed that is going to be consequential for both these managers in the long term – and were hugely significant on the day.
Chelsea's defence were seemingly terrified of Arsenal's attack running in behind them. Arsenal's defence were seemingly terrified of Chelsea's attack running at them.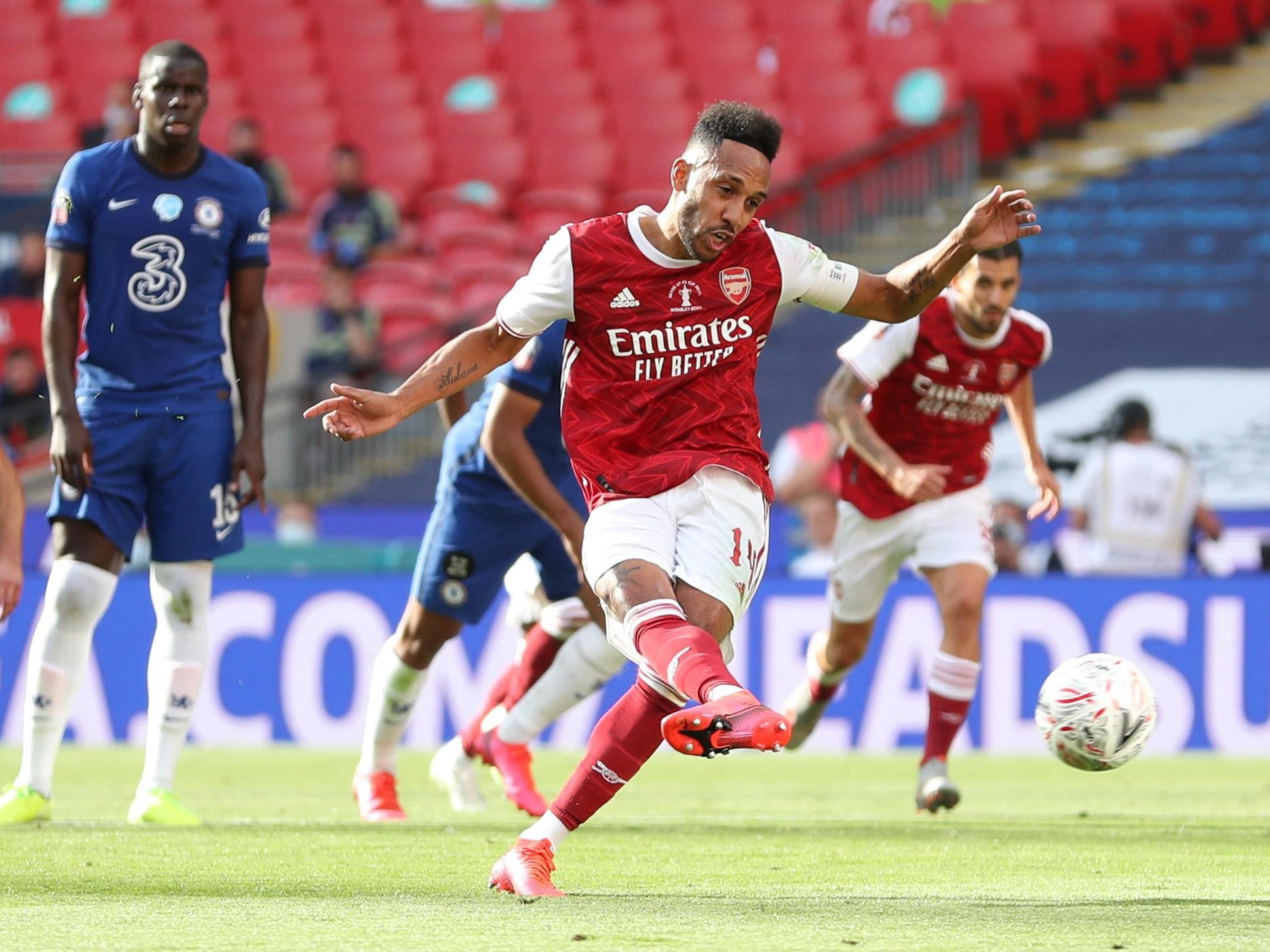 The latter certainly appeared the case in the opening few minutes, especially Pulisic, something which made his subsequent injury all the more important. It was as if he instantly sensed their trepidation, and sought to ruthlessly exploit it, scorching through Arsenal's half before feeding Mason Mount. Mount squared it to Olivier Giroud, who deftly touched it back to Pulisic. The American international was by that point running at a pace that had just detonated a hole in the Arsenal back line, but it wasn't all about force. Just as he took Giroud's touch through, Pulisic checked his run and picked his finish.
It was a goal that capped a fine run, and for Pulisic should have capped a fine first season in English football – but that wasn't to be. He became the first American to score in an FA Cup final, but it wasn't the last goal of the game.
Arsenal had been close to chaotic up to that point, which made Arteta particularly animated in the drinks break. He evidently didn't just rant there. There was immediately a calculation about his side's attack, and a different feel to his team. Arsenal were now controlling the pattern and shape of the game as they pinged passes in behind Chelsea's high backline. Some of the less speedy players, like Cesar Azpilicueta, were increasingly struggling with it. That was the source of Arsenal's penalty as the full-back was left with little option but to bring down Aubameyang, who stepped up and scored.
It maybe wasn't a coincidence that Azpilicueta went off with a hamstring injury later, or Pulisic in the second half. That is perhaps the inevitable consequence of the intensity of football the last few months – especially for sprinters.
Pulisic again attempted to take Arsenal aback with an immediate 50-metre sprint forward at the start of the second half. He got his shot off, but ultimately had to go off, and in tears.
That injury didn't just remove Chelsea's best player from the game, but also a lot of their force. They just didn't have the same energy.
They did have the same problems on the counter, though, at the same time they lost their main ability to punish Arsenal's. Chelsea thereafter always looked like getting punished.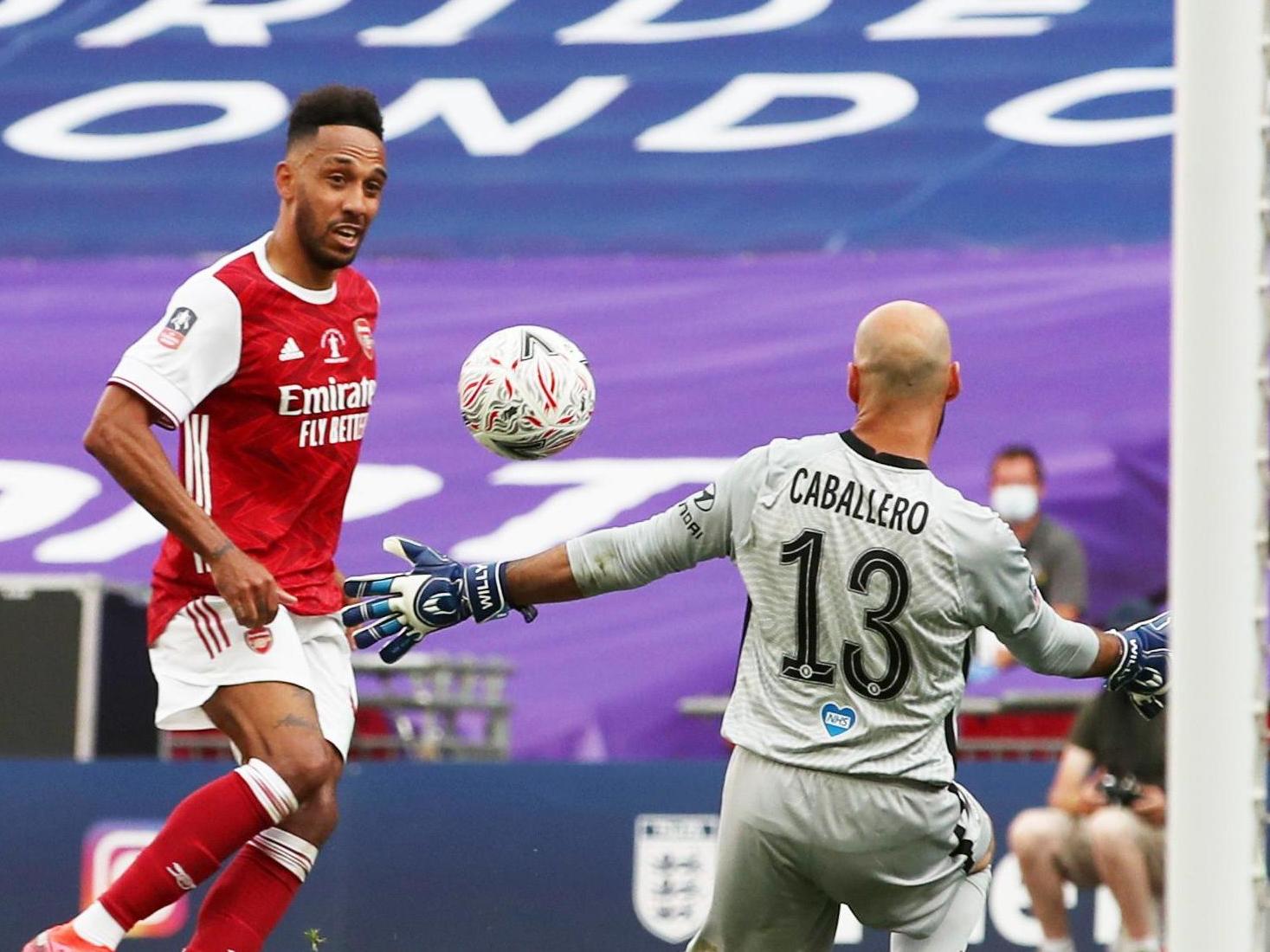 When they eventually did, mind, there were a lot more problems than the structure of the side. There were also a lot of individual mistakes, especially from substitute Christiansen and Kurt Zouma. Hector Bellerin had sensed the same opportunity as Pulisic, and suddenly blazed forward, catching a lot of the Chelsea side out. Christiansen made the challenge, but seemed to get caught himself. No foul was given as Nicolas Pepe turned inside and fed Aubameyang. The striker was just too quick for Zouma and too clever for Willy Caballero. He so elegantly lifted into the net, and with his "bad" foot. It was one beautiful finish, a goal of pure class, if from Chelsea defending of a by now typically chaotic nature.
That wasn't the only area they were losing control, as Mateo Kovacic went for his challenge on Granit Xhaka, and Antonio Rudiger was booked for a confrontation with Arteta.
Chelsea never got their mindset right again – something that has become an issue for Lampard as regards in-game management – and still suffered physical issues. Pedro's career at the club may well end with injury.
He was applauded off. Arsenal, however, were cheered off.
The FA Cup's most successful club claimed another, as their young manager claimed his first.
tinyurlis.gdv.gdv.htclck.ruulvis.net