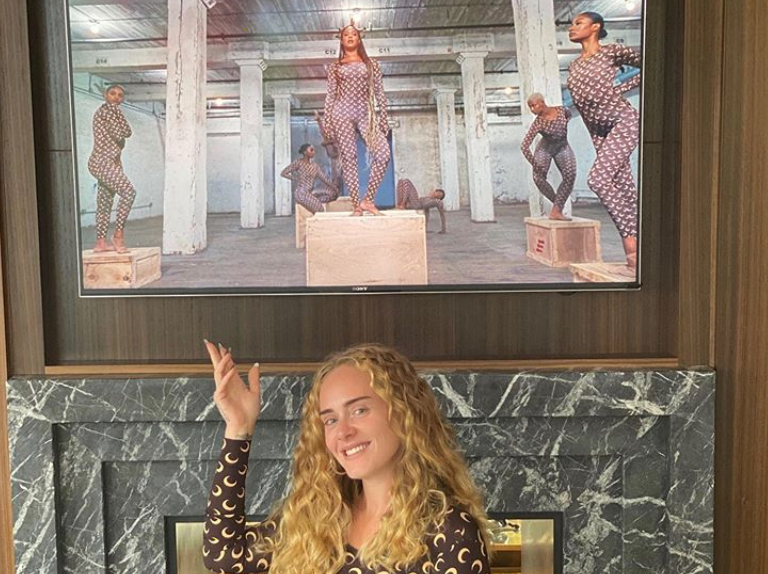 Adele has shared a new photo that shows her appreciation for Beyonce's new visual album, Black is King.
The artist, who has become more active on Instagram in recent months, shared an image of her crouching beneath a TV while the new film played.
"Thank you Queen for always making us all feel so loved through your art," she wrote in the caption, along with two heart emojis.
She appeared to be wearing a similar outfit to the costume Beyonce and her dancers were wearing for a dance routine.
Among the celebrities to comment on the photo was Game of Thrones star Maisie Williams, who asked Adele to "drop the collab".
Adele is a longtime Beyonce fan. At the 2017 Grammys, where she won Album of the Year for 25, the 32-year-old used her speech to insist the award should have gone to Beyonce, for Lemonade.
Beyonce's Black is King has received acclaim from critics. Writing for The Independent, Niellah Arboine commented: "Black Is King feels like Beyoncé at her best. She's more experimental with her aesthetics, shots, angles, styling and undoubtedly the music. Black Is King seamlessly jumps through genres, including, R&B, pop, hip-hop and Afrobeats – the latter a genre she has gracefully been invited into.
"Spine-tingling ballads like 'Spirit', which Beyoncé sings with a choir, sit with 'My Power', oozing with confidence and with a thumping beat and many voices. The execution is a visual feast, each second full of intention. Every shot is a piece of art, from surreal, otherworldly backdrops to the pure opulence of her own home. Beyoncé didn't set the bar, she created it – and at this point, she is her only competition."
Read the full feature here.
Black is King was written, directed and executive-produced by Beyonce. The album is based on the music from The Gift, the album Beyonce created with features from Childish Gambino, Kendrick Lamar, Jay-Z, Pharrell, and Blue Ivy Carter.
The first trailer for the album said it would highlight "the voyages of Black families, throughout time" and tell the story of "a young king's transcendent journey through betrayal, love and self-identity".
"Black is King is an affirmation of a grand purpose, with lush visuals that celebrate Black resilience and culture," it said.
tinyurlis.gdv.gdv.htu.nuclck.ruulvis.netshrtco.detny.im